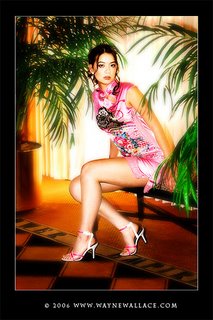 While at WPPI I sat in on several lectures by some of the industries leading senior portriat photographers and learned the latest techniques and trends in creating cutting edge, fashion inspired portraits for high school seniors.
I will soon be launching a web site called
TheFashionExperience.com
which will be devoted to providing Las Vegas High School Seniors with cutting edge, contemporary, fashion inspired portraits.
Wayne Wallace Photography is currently looking for high school junior and senior ambassadors for this new program. If you know of any high school guys or girls that would like to have some really hip magazine quality photographs of themselves tell them to call Wayne Wallace Photography at (702) 734-6161 to setup an appointment to talk directly with Wayne about this program.
---
0

Comments
Published by Wallace Advertising on Thursday, April 27, 2006 at 11:53 PM.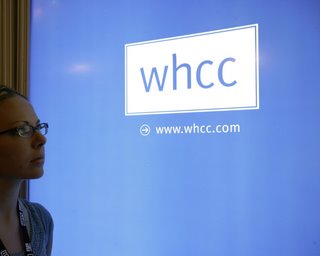 I attedned as much of WPPI as I could in between photography jobs. Actually, WPPI was a photography job as well. I was one of four photographers chosen to document WPPI for a behind the scenes project of GraphiStudio and Rangefinder Magazine.
My photographs have been submitted and we should be seeing the completed project soon.
I'll certainly be posting a blog about this here as soon as I know anything.
Here's a shot of my friend Natalie in front of the whcc sign. Good seeing you at the show Natalie.
I saw many old friends there and made many new friends, and I hope to see you all again soon.
I also got to shoot a few days of the conference with the Canon 1DS Mark II thanks to the local Canon rep. It was a sweet rig and can't wait to buy one.
Until next time... Keep smiling.
---
0

Comments
Published by Wallace Advertising on at 11:40 PM.