So after an amazing lecture by Jay Masiel, the day was great.... that was until we got introduced to Phase III.
I found it appropriate to post a photo to remind alumni, as I'm sure none of you could forget, of the feeling when your stomach dropped when they hand you paper after paper, including the packet of 17 assignments due in about a month.... yes, I know you all remember it well.
Tell me, is this how you felt?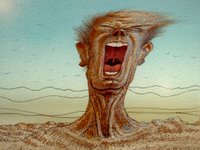 posted by Christina @ 2:03 PM,
13 Comments:
Links to this post: